ABOUT NORTH CYPRUS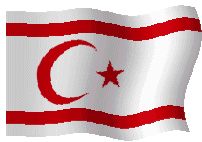 Those who have visited Northern Cyprus will remember an island of golden beaches, brilliant weather, mountain forest and ancient castles. But most remember the warm, friendly faces of the people of the Turkish Cypriot people.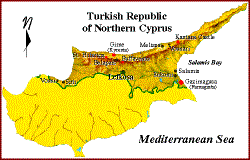 Northern Cyprus is one of the few places in the Mediterranean that has not been spoilt by tourism, still unknown and under developed. It is a small country, only about 15 miles from north to south and 120 miles from east to west with a large mountain range running through the middle.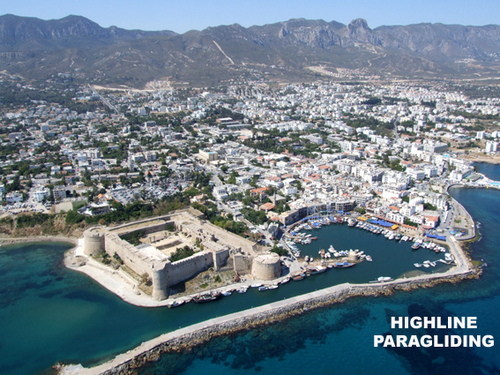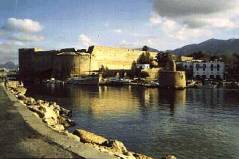 The seaside town of Girne (Kyrenia) with its surrounding mountain range is the most popular with tourist, with its beautiful harbor surrounded by cafes and bars, stunning beaches, ancient castles and fantastic shopping and restaurants.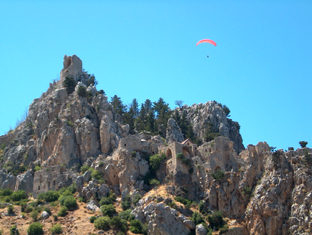 St Hilarion Castle is on the way to our Paragliding take off site, and you can get wonderful views of the castle while fly with us.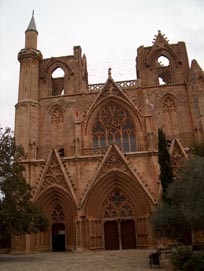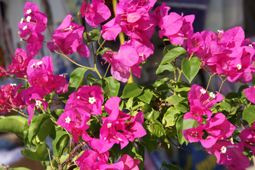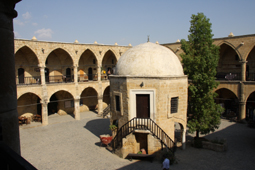 • Geography: Cyprus is the third largest island in the Mediterranean after Sardinia and Sicily. It lies 70 kms. from Turkey, 100 kms. from Syria and 320 kms. from Egypt.
• Climate: Mediterranean climate, with long dry summers from mid-May to mid-October and with mild winters from December to February, which are separated by short autumn and spring seasons.
• Religion: Muslim %99, Orthodox, Maronit and Catholic
%1
• Capital City: Lefkoşa (Nicosia).
• Other Cities: Gazimağusa (Famagusta), Girne (Kyrenia), Güzelyurt, Lefke, Yeni İskele.
• Area: 3,355 kilometer square.
• Language: Language is Turkish but English is widely understood.
• How To Get To North Cyprus: The Turkish Republic of Northern Cyprus can be reached by both sea and air.
By Air; Cyprus Turkish Airlines, Turkish Airlines and Istanbul Airlines provide an important network from international airports to Ercan via Turkey. For the timetables, prices and information, inquiries can be made at the offices of the above mentioned airlines and also from the travel agents and foreign representatives.
By Sea; There are scheduled ferry-boat services from Mersin to Gazimağusa (Famagusta) three times a week. There are daily sea-bus and ferry services from Taşucu to Girne. Also from Alanya, Antalya and Anamur services are organized during summer months to Girne.
• Passports and Visas: A valid passport is necessary for entering and a visa is granted on entrance to Northern Cyprus.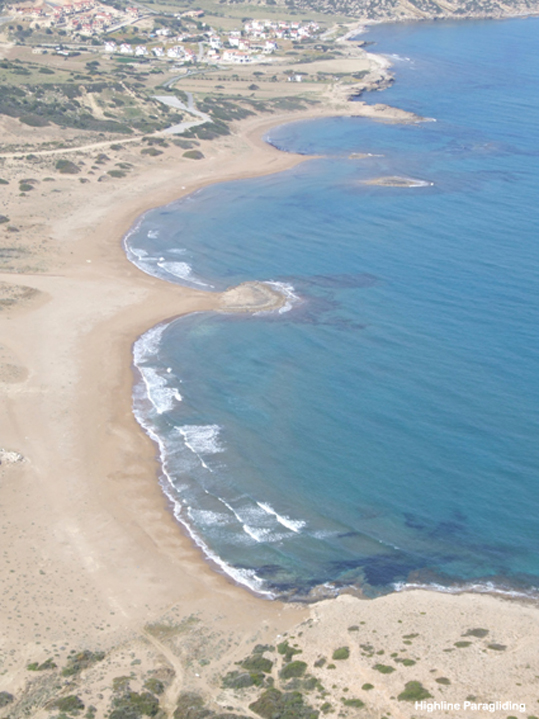 • Coastline: The beaches of Northern Cyprus are among the cleanest and safest in the Mediterranean. The average water temperature is 24C between May and October. The summer season sees the Hotel Beaches offering an excellent service to its customers in terms of eating and drinking facilities, not failing to mention the provision of beach umbrellas and beach loungers. Some of these beaches will also offer activities such as water skiing, banana rides, jet-ski, wind surfing and scuba diving.
• Emergency: Forest Fire 177, Police 155, First Aid 112.
• Accommodation: A wide range of accommodation is offered, ranging from 1,2,3, and 4 star Hotels, Hotel-Bungalows, Hotel-Apartments to camping and Self Catering Apartments and Villas.
• Traffic: Please drive on the left. Traffic and road signs are International. Maximum speed is 100km./hr. Vehicles entering Northern Cyprus must be insured upon arrival. Seat belts must be worn.. Drivers are prohibited to drive under the influence of alcohol. The limit is 50 mgr (As in Europe).
• Car Rental: This service is available in all main towns and some hotels. British or International Drivers License is required. Rental cars have red number plates.
• Telephone: The code for England is 00 44 followed by the local number but omitting the first number (0). From England the code is 00 90 392 followed by the local Cypriot number. Public telephone booths are available and telephone cards can be purchased from the Telecommunications Office.
• Post: The outgoing postal system is reliable. Incoming mail must be suffixed "Mersin-10, Turkey" and not "Northern Cyprus". The history of the postal service in Northern Cyprus will definitely be of interest to all philatelists.
• Electricity: 220/240 Volts A/. A standard three pin British plug is used.
• Public Transport: A good, inexpensive network of buses and mini-buses operates between all the main towns, in addition there are Dolmuş (shared taxis) operating on the same routes. Taxis are widely available but do not carry a meter, however, there are standard journeys.
• Restaurants: A large selection of restaurants exist, ranging from the humble Çorbacı (Soup House) where truly ethnic cuisine is served, to fashionable French, Chinese and Indian Cuisine Restaurants. Prices vary accordingly. There are also a number of excellent Cypriot Cuisine Restaurants which offer very good value for money.
• Bars: A wide range to suit all tastes, serving, local beers, rakı and brandy and of course imported alcohol.
• Tourist Information: Tourist Information Offices are available in all major towns. Tour guides, Hotel Receptionists, Taxi drivers and the locals are also a good source of information.
• Opening Hours: Shops are open with some variations but generally
Summer: 8:00-13:00 and 16:00-19:00
Winter: 9:00-13:00 and 14:00-18:00
• Banks (Mon-Fri)
Summer: 8:00-12:00
Winter: 8:00-12:00 and 14:00-16:00
• Public Services
Summer: Monday, 07:30-14:00 and 15:30-18:00
Tuesday-Friday, 07:30-14:00
Winter: Monday-Friday, 08:00-13:00 and 14:00-17:00
• Currency: The Turkish Lira. Euro, Sterling, Dollars and other major currencies may be used or exchanged in the larger towns. NB. While no restrictions are placed on imports of foreign exchange, large amounts should be declared to customs upon entry. Up to $10,000 may be exported.
• Public Holidays:
1 January, New Year's Day
23 April, Children's Day
1 May, Labor Day
19 May, Youth and Sports Day
20 July, Peace and Freedom Day
30 August, Victory Day
29 October, Turkish Republic Day
15 November, Northern Cyprus Republic Day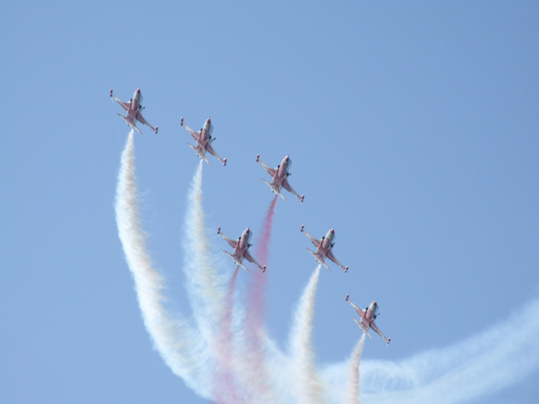 There are also several Religious holidays or "Bayrams" which like the Christian festival of Easter, change every year.
• Periods in the History of Cyprus:
Neolithic

7000-3900BC

Chalcolithic

3900-2600BC

Early Bronze Age

2300-1850BC

Middle Bronze Age

1900-1600BC

Late Bronze Age

1650-1050BC

Geometric Period

1050-750BC

Archaic Period

750-475BC

Classical Period

475-325BC

Hellenistic Period

325-58BC

Roman Period

58-330AD

Byzantine Period

330-1191AD

The Luciana Dynasty

1192-1489AD

Venetian Period

1489-1571AD

Ottoman Empire Rule

1571-1878AD

British Rule

1878-1960

BI-Communal Society
(Republic of Cyprus)

1960

Turkish Intervention

1974

Independent N. Cyprus
(Turkish Republic of Northern Cyprus)

1983-